Live 8 Precedes G8 Summer Summit in Scotland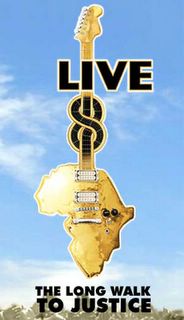 Dude!
Live 8
is almost here! As you probably already know, the five (transatlantic) concerts will feature Seriously Sassy (i.e.
kickass!
)
bands such as:
Snow Patrol
,
Coldplay
,
Dave Matthews Band
,
Maroon 5
,
The Cure
,
Keane
,
The Killers
,
Green Day
,
Pink Floyd
(reunited!),
Kaiser Chiefs
,
Linkin Park
,
Barenaked Ladies
,
Roxy Music
,
REM
, and..oh yeah*...
U2
.
At noon on July 2, you can tune in to this event on MTV, VH1, XM satellite radio or AOL (live streaming broadcast). Click
here
for more info re: the broadcasts.
But more importantly,
do something
! [
For example, our photo will be one of the
hundreds of thousands lining the two-mile Long Walk To Justice
].
Signed,
Selfless Sassy
[By the way - for those of you who don't blog, let me tell you - it takes a LONGass time to create a post with this many embedded links....I'm frickin' exhausted...I know, I know - I'm not usually this socially conscious, activist, or altruistic. Must be that time of month....or the scotch.....]
*The rather sarcastic "oh yeah" preceding the announcement of U2's involvement in Live 8 was intended solely for the purpose of riling up Jazzy and Kif and does not necessarily reflect the views of the editors of this blog.
Tags:
live8
;
live8 summit
;
the long walk to justice
;
Live 8
;
Snow Patrol
;
U2
;
Pink Floyd reunion
;
Coldplay
;
Music