'Star Wars' Earns Record-Breaking $158.5M
And I'm one of the idiots who helped that lame-ass movie break the record. I want a refund.
If you are a Star Wars fan, the following may offend you. Then again, if you really are a fan, you already know what I am about to say: The latest Star Wars movie is a complete dud. Do you know why? I'll tell you:
1.
There's no suspense*
. No drama. I mean, we already know the ending before the movie starts: Anakin becomes Darth Vader (gets awful sinusitis and suffers some hideous disfigurement that requires him to wear that ridiculous mask); Padme/Amidala has twins Luke and Leia; Obi Wan survives; Yoda survives; R2D2 survives; C3PO survives; others die. The end. If you saw the first Star Wars movie (which was actually Episode 4) - and who hasn't - you know all that stuff. Why did I pay EIGHT BUX (plus tax) for that news? Knowing the fate of the main characters makes it difficult to get invested in the story. When Anakin and Obi Wan are fighting "to the death"....um.....well...BORING! (Ben said the best part was actually seeing Darth Vader's face catch on fire. As usual, he's right.) Anyway, I want a refund.
2.
No good one-liners
. Long gone are the days of hunky Han Solo and his dry sense of humor. Shit - even Chewbacca delivered a couple good one-liners back in the day. I think the only attempt at a cute quip in this latest installation was Anakin noting that their spacecraft was "coming in too hot" for a safe landing (the craft was on fire). Ha. Ha. Ha. I nearly peed myself. Seriously. The dialogue in this movie was so lame, repetitious, and devoid of any humor, I thought I was listening to John Madden on Monday night football. Yep. I definitely want a refund.
3.
The battle scenes are drawn out and boring
. As I said before, when you know the outcome of a fight, you tend to lose interest and prefer to focus on something more suspenseful, like whether your fingers can reach that last Raisenette stuck way down in the bottom of the box. Oh and by the way - I am
so
over the light saber. I get it: it's neon-colored, retractable, and hums. Big deal. I have a toy in my nightstand like that and, trust me,
it
provides way more excitement!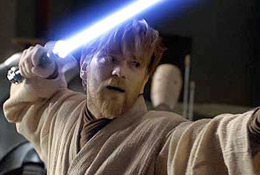 Did I mention I want a refund?
Seriously though, I feel like George Lucas had about 35 minutes' worth of material which he managed to stretch out to 2 hours of my life that I won't be getting back.
The only good thing about the whole ordeal was that I got to snuggle up to Ben, who was trying to keep me warm in the fricking frigid cinema. That, and the fact that I learned there's a new movie coming out with Vince Vaughn, Owen Wilson and Christopher Walken.
The Wedding Crashers
. Now
that's
entertainment! I can't wait! Woo hoo!
Signed,
Sith-To-My-Stomach Sassy
* Sassy's Suggestion for Sith Suspense
: Darth Sidious kidnaps Padme and holds her hostage until Anakin agrees to cross over to the Dark Side. We never know what happens while she is in captivity, but she keeps having nightmares about giving birth prematurely, even though she is still pregnant. Later, we learn that Darth Sidious has aborted Padme's pregnancy and impregnated her with his own evil seed!
Seriously, wouldn't that make Darth Vader's famous line ("Luuuke...I'm your father") much more interesting if we found out at the very end of it all that Darth Vader was sadly misinformed all along?? I'm just saying.....