"Crazy Old Coot" Arrested For 911 Calls About Pizza Delivery
Now, this is priceless. An 86 year old Granny, allegedly described as a "crazy old coot" by a pizza parlor worker, called 911 about twenty times within a half hour to complain that the pizza parlor refused to deliver her pie. And then, when the cops came to arrest Granny for abusing the emergency call system, she (in all her 5 foot tall, 96 pound glory) "attacked" the male officer, scratching, kicking, and biting. Man - she wanted some pizza bad, eh? It must be wicked good pie...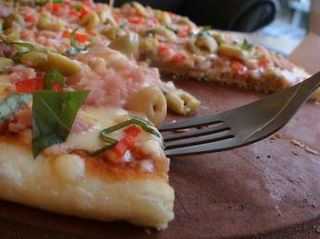 Now, y'all know I don't condone violence (except in special circumstances, usually involving ex-husbands), but I do understand Granny's behavior in this instance. I mean, there have been times when I myself was tempted to call up the National Guard to go in search of my chinese food. And hey - at least Granny's calls were about a legitimate problem...unlike the 911 calls made by a certain "Runaway Bride"....By the way -
that
crazy bitch
got indicted today
and I hope she either gets jail time or has to pay hefty fines. After all, if she was having second thoughts about marrying the dude, there were plenty other ways to handle it.
For starters, she could have called me. I would have given her the old "Triple S" treatment ("Standard Sassy Suggestions") as follows:
1. So you think you may not want to get married on Saturday? No problem. Go get pissed drunk immediately. The hangover you'll have tomorrow will make marriage seem easy.
2. Now that he's a born-again Christian, you think he isn't the party-boy he used to be when you got engaged? No problem. Go get pissed drunk immediately. Maybe seeing you passed out diagonally across the bed will remind him of the good times you used to have together.
3. He says you can't have sex anymore until after the wedding? No problem. Go get pissed drunk immediately. And then
after
the wedding, tell him that you've decided that abstinence really isn't that bad after all. That's what I call the
Win-Win Kicker
: He can't fault you for following a discipline he himself encouraged and you don't have to sleep with this bait-and-switch loser who will probably prematurely ejaculate on your wedding night anyway..... [
Oh my!.....I apologize for that.....I...uh....I don't know where that came from.....Let's move on....
]
4. You're worried what people will think about you if you call off the wedding? No problem. Go get pissed drunk immediately...and then, just stay that way. I think you'll find that you no longer give a rat's ass what
anyone
thinks, let alone 600 people you hardly know but invited to your wedding. You may still have to return the gifts though. Then again, if you get drunk enough, you can tell people you don't remember them giving you a gift.....[
Faked memory loss is a wonderful tool, under-utilized by most.
]
Speaking of memory loss - I can't remember what the original point of this post was....For some reason, I'm thinking Julia Roberts....Oh, right, I was talking about Runaway Brides and Mystic Pizza.....[
Did y'all see that coming? I sure as hell didn't....
]
Anyway, I bet Granny gets her pizza fix now. After all, they probably deliver to the police station all the time....
Signed,
Sausages 'n' Sweet Peppers Sassy