Tiger Defeats DiMarco To Win Fourth Green Jacket
Finally, I'm proven right (again). I have often tried to convince people that a vacation in
Barbados
can cure anything, even a shaky golf swing. Well, for all you doubters out there - notice how my boy
Tiger
won The Masters yesterday. Notice how he is once again the Number 1-ranked golfer in the world. In case you miss my point, here's a hint:
Where did Tiger and the lovely Mrs. Tiger recently celebrate their nuptials?
Are my waves hitting your beach? [
That's some J-Jive for you
].
Well, I watched the whole final round of the Masters yesterday with bated breath (except for when I was screaming at the top of my lungs...which, by the way, I am convinced caused Tiger's chipshot on 16 to finally drop into the hole after its gravity-defying pause at the edge of the cup). I am a huge Tiger fan (unlike that meanie, Josh Grubbs, over at
youvegottalovesports.com
) so here's a big shout out to my boy: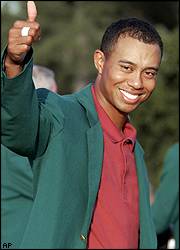 Congrats Tiger! You look pretty good in green to me.
Signed
Always in the sand, Sassy
P.S. Josh - don't hate the player.....